I've had my eye on Arista Networks (NYSE:ANET), the cloud-friendly networking hardware company, for a long time now. The company's sheer execution is undeniable, with the company gaining market share over entrenched incumbent Cisco (NASDAQ:CSCO) with each passing quarter and growing north of 40%, a true feat for a hardware company in an otherwise "boring" industry. Meanwhile, the company has been expanding its margins, earnings, and cash flow by envious amounts – leading the stock to go up, up, up over the past year.
Hardware has had a bit of a resurgence over the past year, with typically "boring" stocks like semiconductors companies enjoying a bit of a renaissance with huge gains in 2017. But surpassing them all is Arista Networks, which twelve months ago was trading just north of $100. Right before Arista's Q4 tumble, shares crossed the psychologically important $300 mark, and even after taking into account its earnings pummeling, the stock is up 156% over the past twelve months.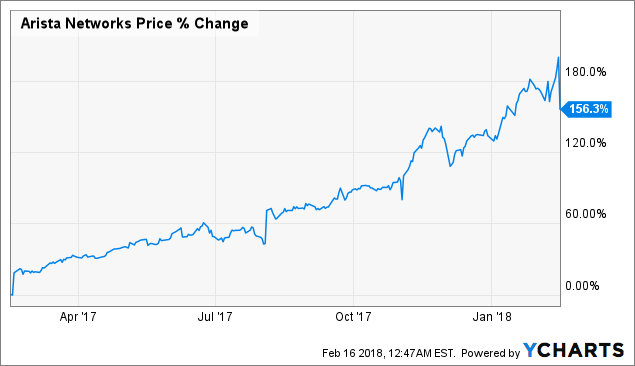 Naturally, it's healthy for any stock that's risen this far, this fast to have a bit of a breather to consolidate gains before resuming a rally – no matter how solid the fundamentals. While fundamentals are the strongest backbone for any investment decision, one can't ignore the fact that traders will take profits on an extremely profitable trade no matter what the underlying results are.
For this reason, I believe Arista's "fall from grace" is simply cosmetic – peeking under the hood at its results can find no immediate cause from disappointment. The stock will rise again, and though it would be foolish to hope the company can double again in 2018, it's more than likely that Arista will continue to outperform the broader market.
Note also that Goldman Sachs' new telecom hardware analyst recently initiated Arista as a Buy with a price target of $320 (21% upside). While Wall Street's ratings and price targets are not a perfectly reliable source of investment due diligence (due to the fact that ratings skew mostly positive, especially from the larger firms with investment banking ties to these clients – irrespective of the so-called "Chinese Wall"), the fact that Goldman added Arista to its Conviction List is certainly worth mentioning. Such accolades aren't frivolously awarded by a top research house.
As previously mentioned, I've been eyeing Arista stock for a while, not daring to jump in because of the consistent gains. I try not to buy on the way up, but in Arista's case, that seems to be the only way the stock can go – and in my mind, it's just as dangerous to ride a huge rally as it is to catch a falling knife. I've been waiting for the pullback that never seemed to come until now, and if the stock falls to the $250-$260 range, I'm snapping up as much as I can.
Analysts are pinning an EPS target of $6.27 for the coming year (as reported by Yahoo Finance) – so shares are trading at a forward P/E of ~40x. This is roughly in line with Arista's historical average, and before you jump to the conclusion that 40x is a ridiculous earnings multiple to pay, recall that Arista's earnings growth of ~70% is leagues better than legacy peers. On a PEG basis, Arista carries a PEG ratio of about 0.6x, indicating that the stock is undervalued relative to its earnings potential.
Let's dive into Arista's quarter to see if there's anything we have to worry about (right off the bat, let's capstone this by saying there isn't anything of note to be concerned about).
See the company's earnings summary below:
Figure 1. Arista Networks Q4 results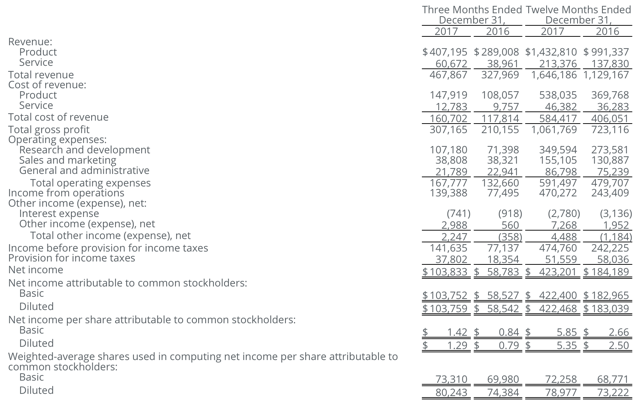 Source: Arista investor relations
Arista grew revenues by 43% y/y to $467.9 million, a stunning growth rate for a company at its ~$2 billion run rate. One note here: Perhaps it's the deceleration from last quarter's 51% growth that has investors worried, but what are they to expect when the company has grown this large? Deceleration is a fact of life in growing companies, and Arista's revenue growth towers over Cisco's at 3% (and investors had applauded Cisco's results). Arista also beat analysts' expectations of $458.7 million (+40% y/y) by a comfortable margin, so there's not too much to criticize the company for.
Arista's CEO Jayshree Ullal (herself a former top executive and protege of Cisco's John Chambers, a drama that has been chronicled in the Wall Street Journal) called FY17 a "significant year" for the company in which it gained widespread acceptance of its products, having sold a cumulative 15 million cloud networking ports to a base of 4,900 customers. Ullal also reminded customers that its top customer is Microsoft (NASDAQ:MSFT).
What other badge of honor can be greater for an enterprise technology company than being a major vendor to the largest enterprise software company in the world? If that's not market acceptance, nothing else is. While Cisco and its contemporaries are racing fast to innovate again in the space after being stale for such a long time, Arista is climbing to the top of the leaderboards in new deployments and customer reviews.
While it's true that Arista isn't the only networking hardware company that is compatible with cloud technologies – I'm sure Cisco products work just fine – it has the advantage of having the closest association with the cloud. It's a fan-favorite brand among forward-thinking IT leaders, and as cloud transformation becomes an increasingly important agenda item for top companies, Arista will continue benefiting from more customer conversions.
All the while, Arista is taking advantage of its continuous growth to pump out more margins. As a percentage of revenues, all of Arista's operating spend components have scaled down, indicating much higher efficiency. In particular, notice how sales and marketing spend has essentially flatlined from $38.3 million in 4Q16 to $38.8 million in 4Q17, notwithstanding the much higher (43% higher) revenue base.
This hints at the fact that Arista is pulling in demand fairly organically. It doesn't have to continually add bodies to a massive, expensive sales force to push its products into the market – it's doing just fine in the growth department without any incremental sales spending.
As such, GAAP operating profits in the quarter rose to $139.4 million (a 30% margin) versus $77.5 million (24% margin) in 4Q16. Note that this is now in-line with Cisco's operating margin, despite being a fraction of Cisco's scale (and with Cisco having much more gross margin accretive businesses in its software arm). Arista's profitability, if market trends continue and the IT community continues to embrace its product, will eventually overtake Cisco's – it's only a matter of time.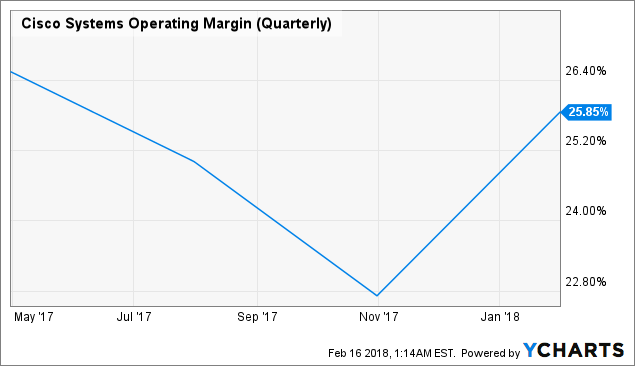 Arista's pro forma EPS of $1.71 grew 64% y/y from $1.04 in 4Q16, and beat analyst consensus of $1.41 by 30c (a 21% beat). It's evidently obvious from the size of Arista's beat this quarter that the earnings reaction is solely profit taking, nothing more.
Perhaps guidance was a bit tighter relative to Wall Street consensus than usual, but a beat is still a beat, and if history shows anything, it's that Arista continually outperforms relative to its targets and frequently revises its targets upward. The company called for Q1 revenues of $450-$468 million, the midpoint of which ($459 million) still beat consensus of $457.8 million.
With profits growing ~70% y/y, revenues growing above 40% and beating analyst estimates in both the current quarter and for next quarter's guidance, there's no cause for concern in Arista's quarter. Declines in best-of-breed, top-notch growth stocks like Arista tend to be short-lived, so investors are encouraged to take advantage of the current volatility to pick up shares at a slight discount.
Disclosure: I/we have no positions in any stocks mentioned, but may initiate a long position in ANET over the next 72 hours.
I wrote this article myself, and it expresses my own opinions. I am not receiving compensation for it (other than from Seeking Alpha). I have no business relationship with any company whose stock is mentioned in this article.