Introduction
On Friday, the dollar index fell to a low not seen since late 2014. Continued weakness in the dollar will lead to inflation in all dollar-based commodities like gold, crude oil and agricultural products.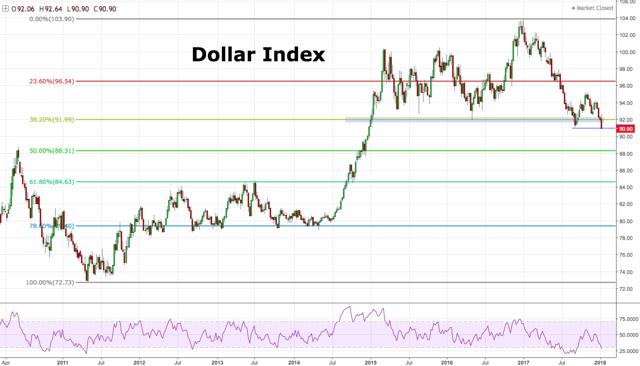 Next week, the U.S. financial markets will have a shortened holiday week. There are big political issues looming, like a potential shutdown of the U.S. government, and an ongoing battle over immigration reform. As a result, the week ahead could see continued volatility in the U.S. dollar – either up or down. These moves in the dollar will likely affect gold, crude oil and other commodities – one way or another.
Is IT Happening?
Is this the beginning of the dollar collapse? Is that why Bitcoin and other cryptocurrencies have risen so far, so fast? Does the pending yuan-based oil futures contract lead to the end of the petro-dollar? Is that why oil has risen so far, so fast? Is IT happening??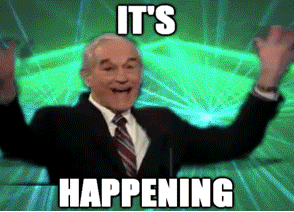 Will the U.S. government shutdown close its doors amid political posturing and theater? Will the political climate in Washington, D.C. get even worse? Will the Democrats invoke articles of impeachment on Donald Trump? Will the U.S. and its allies attack Iran?
Should I go "all in" on the SPDR Gold Trust (GLD) to profit from all of these potential events? Or will all of these storylines get resolved, and leave the gold bulls, once again, kicking air instead of a football – and landing flat on their backs?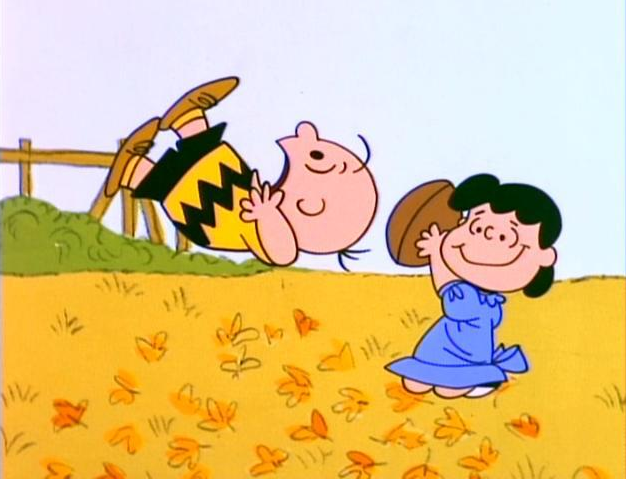 Gold Divergence from Real Interest Rates
The price of gold has historically had a close correlation with real interest rates. Since the beginning of 2017, however, gold and real interest rates have seen increasing divergence. Is this a sign that we have entered a new era where the old correlations are no longer valid? Possibly.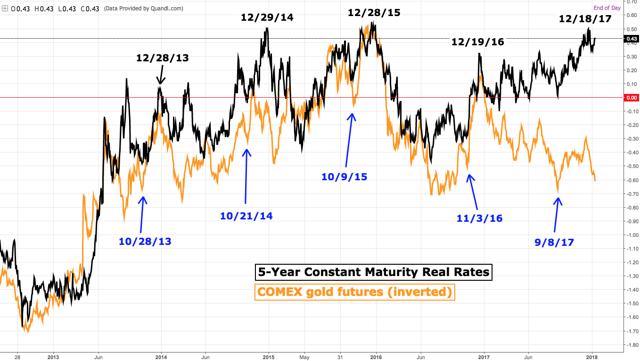 For the price of gold and real rates to converge again, 5-year real rates would need to fall precipitously below zero. Or gold would need to fall below the 2016 lows. Or, some combination of the two. We can see that real interest rates have hit a peak in late December of every year since 2013 before correcting lower.
Gold is money. However, it is currently traded as a paper derivative. I can't (and won't attempt to) predict the day when gold will be set free from its paper chains. I view physical precious metals as a store of value and an insurance policy to protect against macro market risks.
Meanwhile, since I closely track gold and silver, I also swing trade "paper" gold and silver on a short term basis – both long and short – with an eye on several traditional and proprietary indicators.
GLD Charts
The weekly gold chart continues to look bullish, although is nearing an over-bought RSI signal. On a purely technical basis, I would expect at least a pull-back to the uptrend line and/or $124 at some point.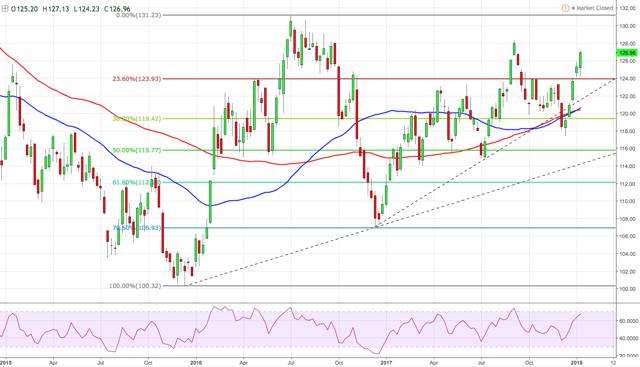 On the daily chart, we can see that GLD came back into a prior uptrend channel. If GLD continues upward, then in hindsight we might describe the drop below the channel as a "bullish under-throw." GLD is over-bought on the daily RSI.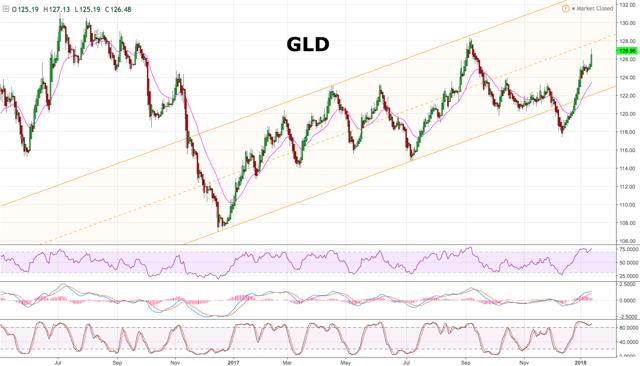 Gold COT Report
I view the gold COT to be neutral, perhaps slightly cautionary. In the week ending January 9th, the net commercial short interest increased by 23%. When price increases, the commercial banks tend to create paper gold to satisfy paper gold demand.

Peaks in net commercial short interest have almost always coincided with nearby sell-offs, and valleys in commercial short interest have almost always coincided with nearby rises in price. One should be careful when trying to "time" tops or bottoms based upon the COT report, for at least two reasons: 1) the COT report is published on Fridays with Tuesday's data, so it is three trading days old, and 2) the bullion banks have demonstrated patience in covering their shorts, and it could take many weeks for the COT data to look meaningful in hindsight.
While the gold commercial short interest has increased rapidly from its recent low, it only recently crossed over its 3-year average. And net commercial interest is below recent highs.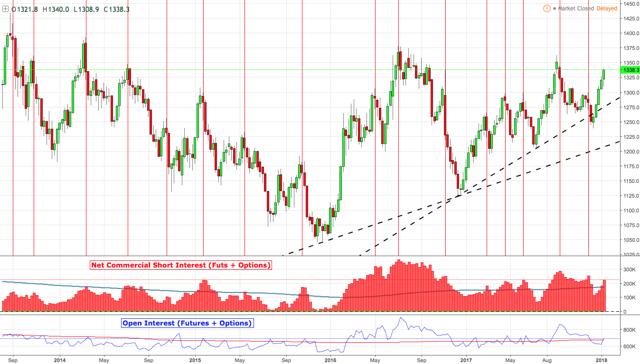 Gold OPEX Price Magnet
I closely track the options market for gold, crude oil and natural gas and have created a program to calculate OPEX price magnets for these commodities. Here is a recent history of the gold futures price versus the calculated OPEX magnets.
Since June 2017, the futures and OPEX price magnets have tended to converge onr or before the options expiration date. The next option expiration date for COMEX gold is January 25th, 2018.
The OPEX price magnets that I have developed are related to the "max pain" theory. This Youtube video does a good job at describing the "max pain" theory. There are free max pain calculators online for publicly traded stocks; however, the OPEX price magnets are in my view more relevant and are calculated on futures contracts.
Conclusion
Rising gold prices, a weakening U.S. dollar and divergent real interest rates may provide evidence that gold is regaining its luster as a unique "safe haven" asset. Historically important correlations appear to be broken, and the dollar is setting multi-year lows. Add to this mix increasing political and geo-political risks, and we may have a formula for "IT" to happen. Gold could soon be free of its paper chains, and ETFs like GLD could continue to rise in value – and perhaps move sharply higher.
On the other hand, we might be witnessing beginning-of-the-year allocations and adjustments that become an eventual "nothing burger" for GLD and other gold-related investments. If we continue in the old paradigm, then I see reasons to be cautious for paper gold investments like GLD. GLD is over-bought on its daily RSI, and real interests rates could drag lower. Moreover, the nearby gold OPEX magnet suggests that gold could pull back before the end of January.
I wish all of you the best of luck navigating this interesting market.
Disclaimer
This article was written for information purposes, and is not a recommendation to buy or sell any securities. I never intend to give personal financial advice in any of my articles. All my articles are subject to the disclaimer found here.
This article is similar to information that I post daily and weekly in my subscription service. If you are interested in research like this, you might consider Commodity Conquest.  In addition to coverage of gold, silver and crude oil, I also conduct in-depth coverage of many energy and commodity firms.  Here is a verifiable summary of my completed trades since launching my service in June 2017.

I am currently offering a two week free trial.  In addition to my daily content, I also have good input from my subscribers in the chat section.  Come and check it out.
Disclosure: I/we have no positions in any stocks mentioned, and no plans to initiate any positions within the next 72 hours.
I wrote this article myself, and it expresses my own opinions. I am not receiving compensation for it (other than from Seeking Alpha). I have no business relationship with any company whose stock is mentioned in this article.
Additional disclosure: I am always net long precious metals in various forms, and currently hold out-of-the-money GLD puts as a hedge.